Project References
USA Moulton Tower, USA Campus - Mobile, Al
Charleston Lighting and Manufacturing supplied the copper lanterns and the poles for the Moulton Tower or "Clock Tower" as referred by the students.The beautiful lanterns were custom designed especially for this project. The escutcheons that mount the lanterns to the tower structure are solid brass and hand rubbed to a matte black finish. In the center of the escutcheons is the sculptured head of a Jaguar, the campus mascot. The lanterns are approximately 14' tall and weigh approximately 600 pounds each.
Used as general lighting for the area project, these beautiful Copper lanterns are a smaller version of the tower lanterns. They are mounted in pairs on our LS 500 cast aluminum base and 3" OD aluminum pipe.
A closer look at a smaller version of the custom lanterns designed for the Moulton Tower, used as area lighting around the project site.
Bon Secour Village - Bon Secour, AL
Bon Secour Village is residential and retail development located in Gulf Shores, Alabama on the Intercoastal Waterway. This project was developed jointly by Midnight Properties, of Cullman, AL, Guthrie Development of Birmingham AL, and Skelton Development of Atlanta, GA. Brassfield & Gorrie of Birmingham, AL is the GC of the project. Charleston Lighting was selected to manufacture all copper lanterns and poles used on this project.
One of the many spectacular homes in Bon Secour Village. This home is adorned with our Orleans 601 series and 1/2 Circle Yoke mount.
A night time look at how beautiful an entrance such as this looks with the gas lanterns.
A closer look at the illuminated entrance at night.
One of our lamp posts used to display a stop sign.
Virginia Residence
The beautiful Georgian 693 with Copper Top Scroll
Maryland Residence
Commercial Application
Our post, lantern, and signage for a shopping center in Mobile, AL.
Prato Italian Resturant - Winter Park, Fl
A view of our our interior gas sconces made of steel and glass.
Another view of our interior gas wall sconces are made of steel and glass.
Residence
This large custom gas lantern was designed for an outdoor covered patio.
Atlanta International Airport
Our beautiful copper Lanterns used in a restaurant and bar area.
Commercial properties - Daphne, AL
Lanterns at Daphne Utilities.
Our Cambridge model 663 mounted on 10' lighting standards adds a lovely element to Daphne Utilities' park.
Classic Orleans Creole
This Classic 601 Orleans Creole with a copper backplate and a top scroll, finished with hand rubbed old world bronze.
Mount Pleasant, South Carolina
The Orlean's 6-sided bronze coated electric copper lantern with a top scroll is used to accent the front door on a beautiful home east of Charleston, South Carolina in Mount Pleasant in the I'On community.
Coosa 129 upscale Restaurant
Beautiful gas sconces adorn the walls of this upscale Restaurant. This is a restoration project for an old cotton warehouse in the Market District. These beautiful lanterns adorn old bricks made during the Civil War era.
Beautiful gas glass wall sconces adorn the walls of this upscale restaurant and bar making an elegant statement of lighting through out the area.
Residence
Half Yoke hanging Lantern Chicago Residence
Catholic Bishops Residence
Lanterns and poles installed provide area lighting around this beautiful old mansion in Chicago.
Lanterns adorn areas around this beautiful old residence in Chicago Il.
Jack Daniel's Distillery - Franklin , TN
Beautiful lanterns at the entrance and through out the areas surrounding the distillery.
Lanterns on the grounds around the Jack Daniels Distillery create beautiful area lighting.
Henderson Residence - Franklin, TN
Beautiful lanterns on the Henderson residence in Franklin, Tennessee.
Lanterns adorn the double doors of the Henderson residence in Franklin, Tennessee.
Hampstead Village
Hampstead Village is a DPZ project constructed by the Lowder Company, in conjunction with Brassfield & Gorrie. The development encompasses 100+ acres and offers upscale housing with beautiful landscaping and a variety of Charleston Lighting products.Charleston Lighting worked closely with architects and developers to design, engineer, cast, and finish the custom style bases and bollards used throughout the community.
Charleston Lighting's lanterns and bases provide elegant and reliable street lighting. Our staff assisted in all aspects of the lighting plan, to insure adequate and aesthetically pleasing street lighting.
Copper lanterns add an elegant touch.
Longview - Charlotte, NC
LV Realty Group chose Charleston Lighting's Sussex series lantern on fluted standards as street lighting for The Longview Home Development and Country Club.
Kappa Kappa Gamma House
Charleston Lighting's Montreau model 473 with WM series extended wall mount is proudly placed at the entrance to the Kappa Kappa Gamma Sorority House at the University of Alabama.
Bryant Bank
Charleston Lighting's Savannah series lanterns are used as accent lighting at the entrance of all newly constructed Bryant Bank locations.
Pilot Residence
The Pilot family along with Mrs. Ginger Irby of Ginger I's Interiors chose the Charleston Lighting Racine series lantern with custom designed mounts to accentuate the exterior of their beautiful old world barn style home.
Camp Ramah Darom - Clayton, GA
Camp Ramah Darom in Clayton, GA is a children's summer camp & retreat. The new addition to the complex (shown in this photo) is an executive retreat, training and meeting facility; donated by The Mitchell Company, of Mobile, AL.
Grand Hotel - Point Clear, AL
The lavish Grand Hotel in Point Clear, AL. chose Charleston Lighting to provide lanterns and standards for landscape lighting along walkways and entrances. Shown in this photo is our Orleans model mounted on our LS300 standard.
Stagner Family Home , FL
The newly built family home of Paul & Kim Stagner of Gulf Breeze, FL is adorned with our Montreau series lantern mounted on our WM100A series mount for maximun extension from the wall.
Private Residence - Fairhope, AL
LS-500 Pole - Faubourg 1046 with Custom Copper Mount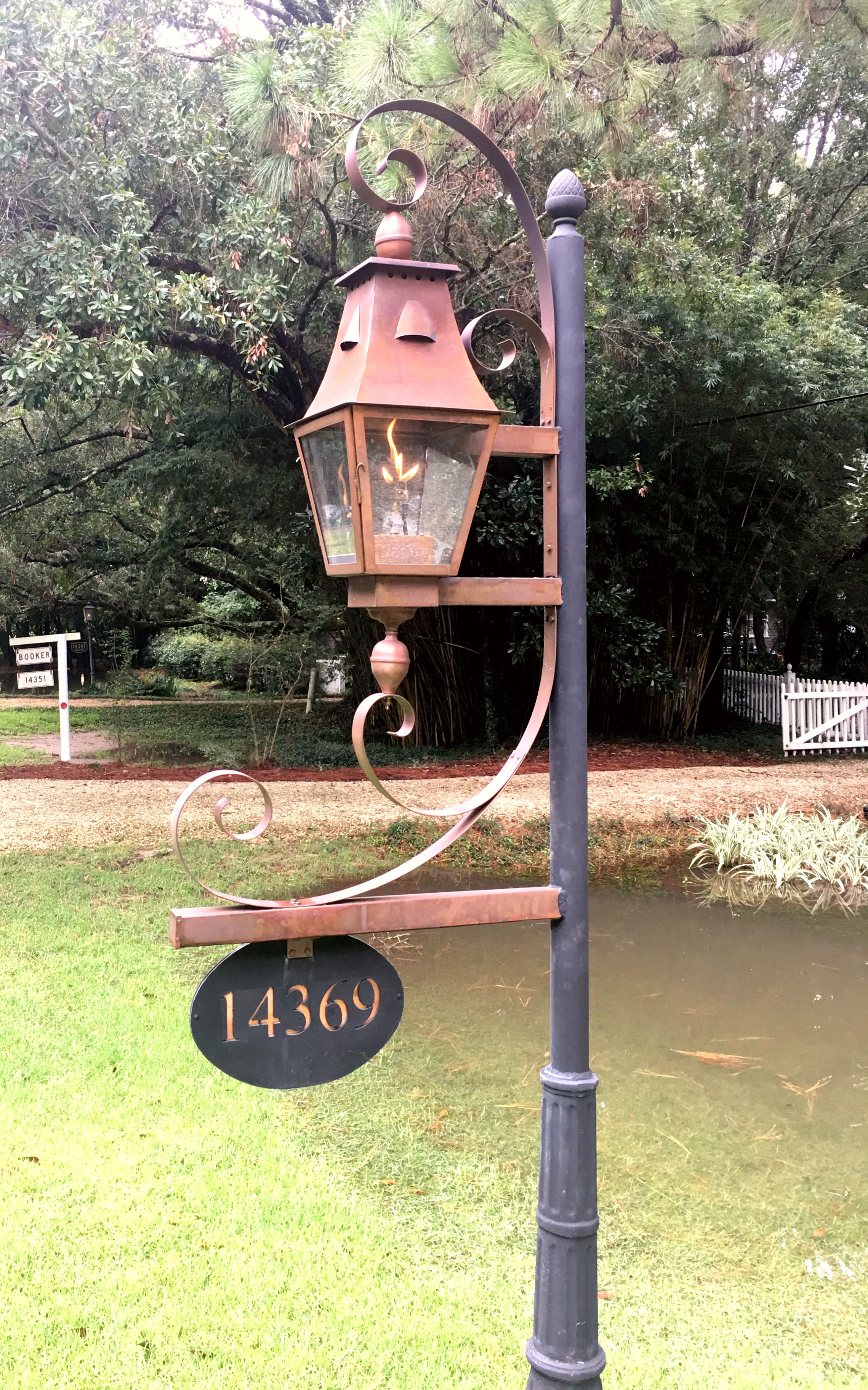 Private Residence - Mobile, AL
Charleston Montreau 473 Gas with Goose Neck Mount
Custom Hanging Electric Copper Lantern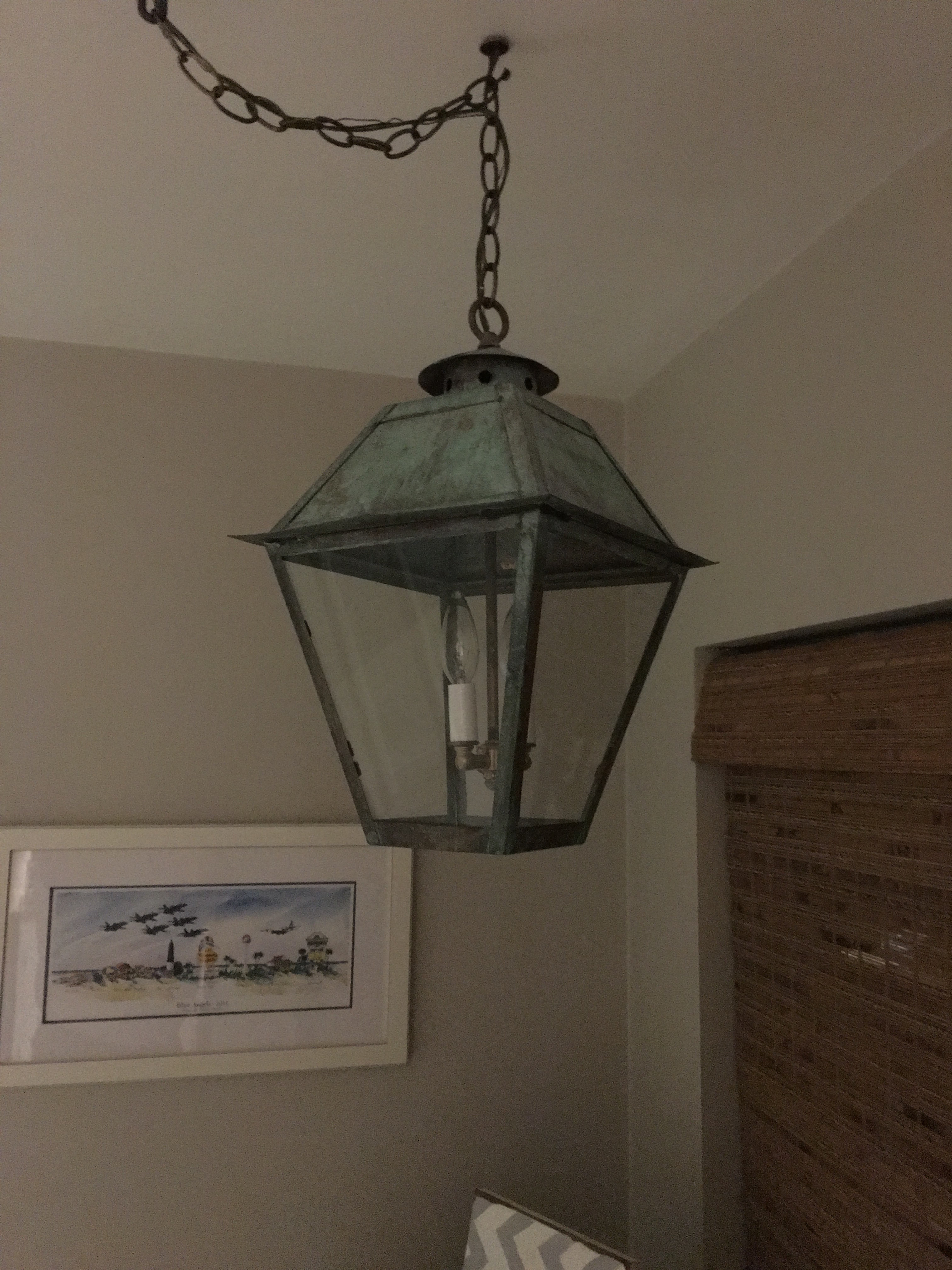 Custom Charleston Hampton 5302 Gas Lanterns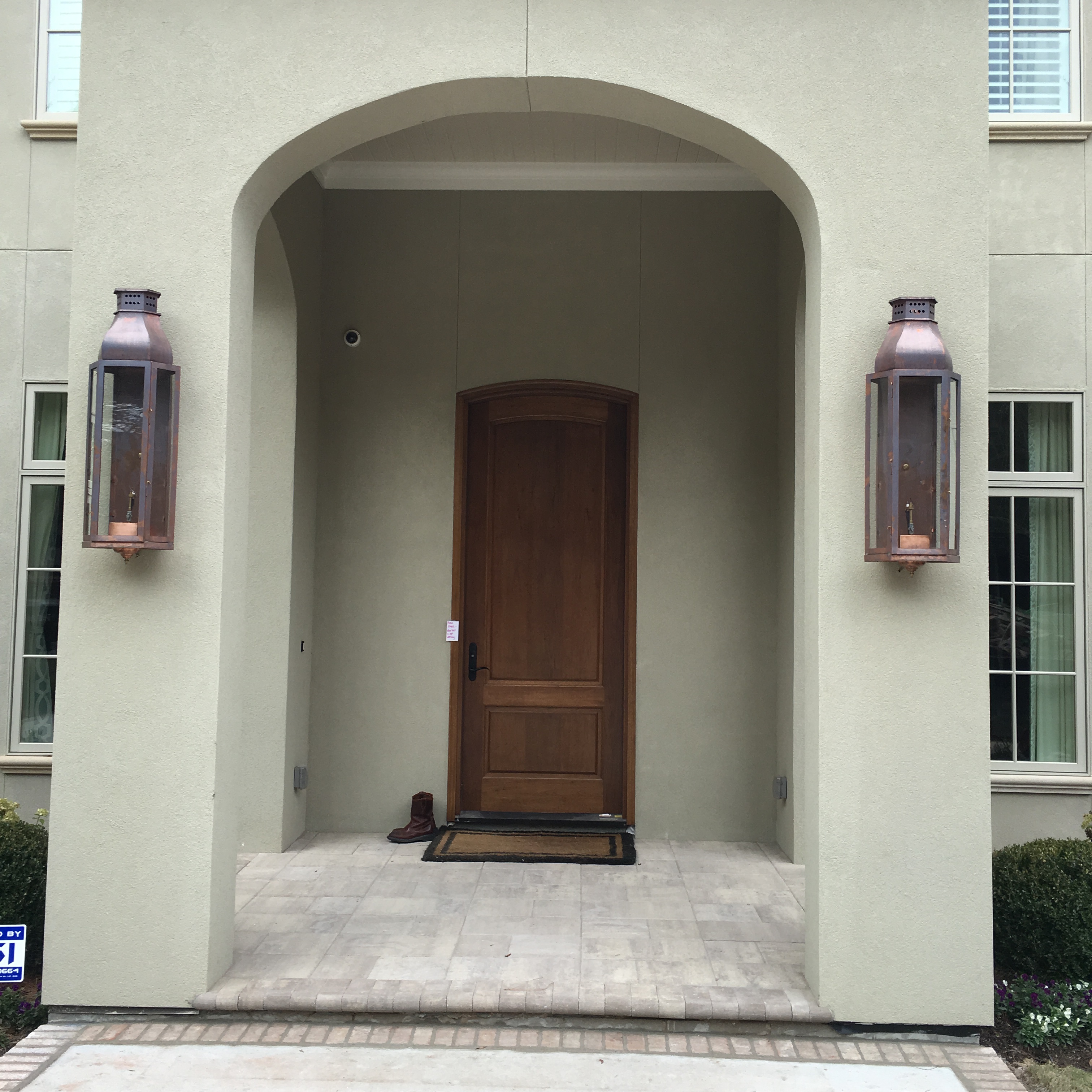 Charleston Gas Light Parliament with 2" Copper Flat Bar - Half Yoke Mount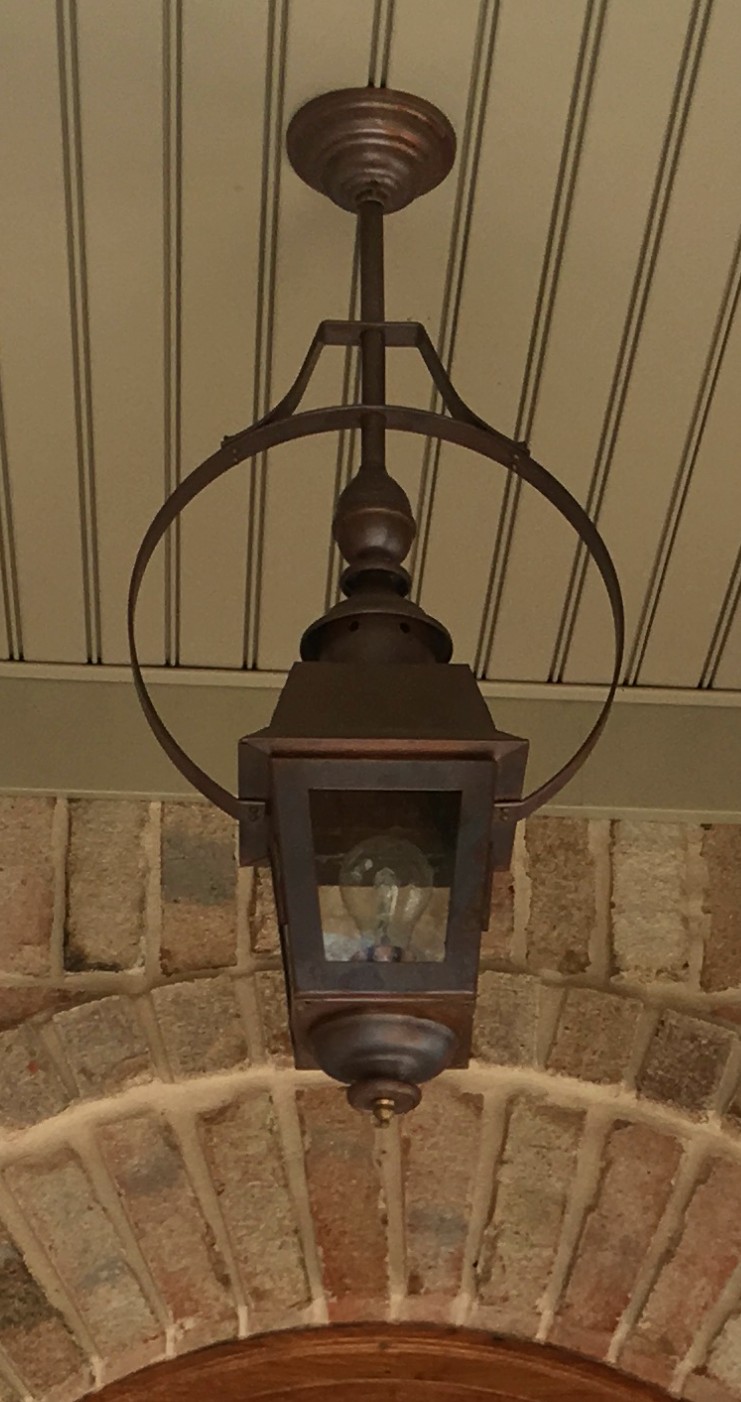 Charleston Gas Light Parliament with 2" Copper Flat Bar Mustache 24" in Length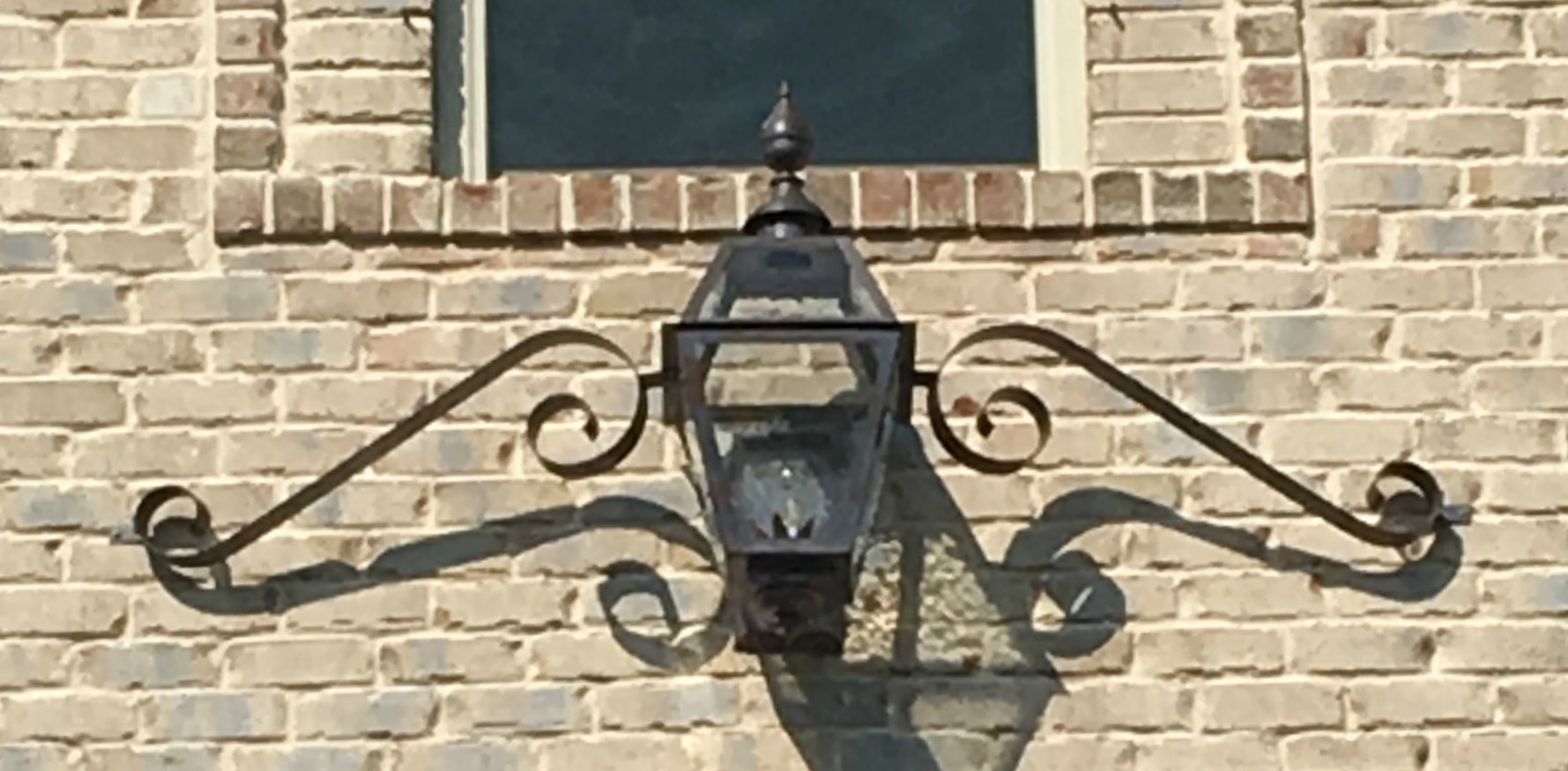 Rotunda Private Residence - Kitty Hawk, NC
Custom Copper Hanging Light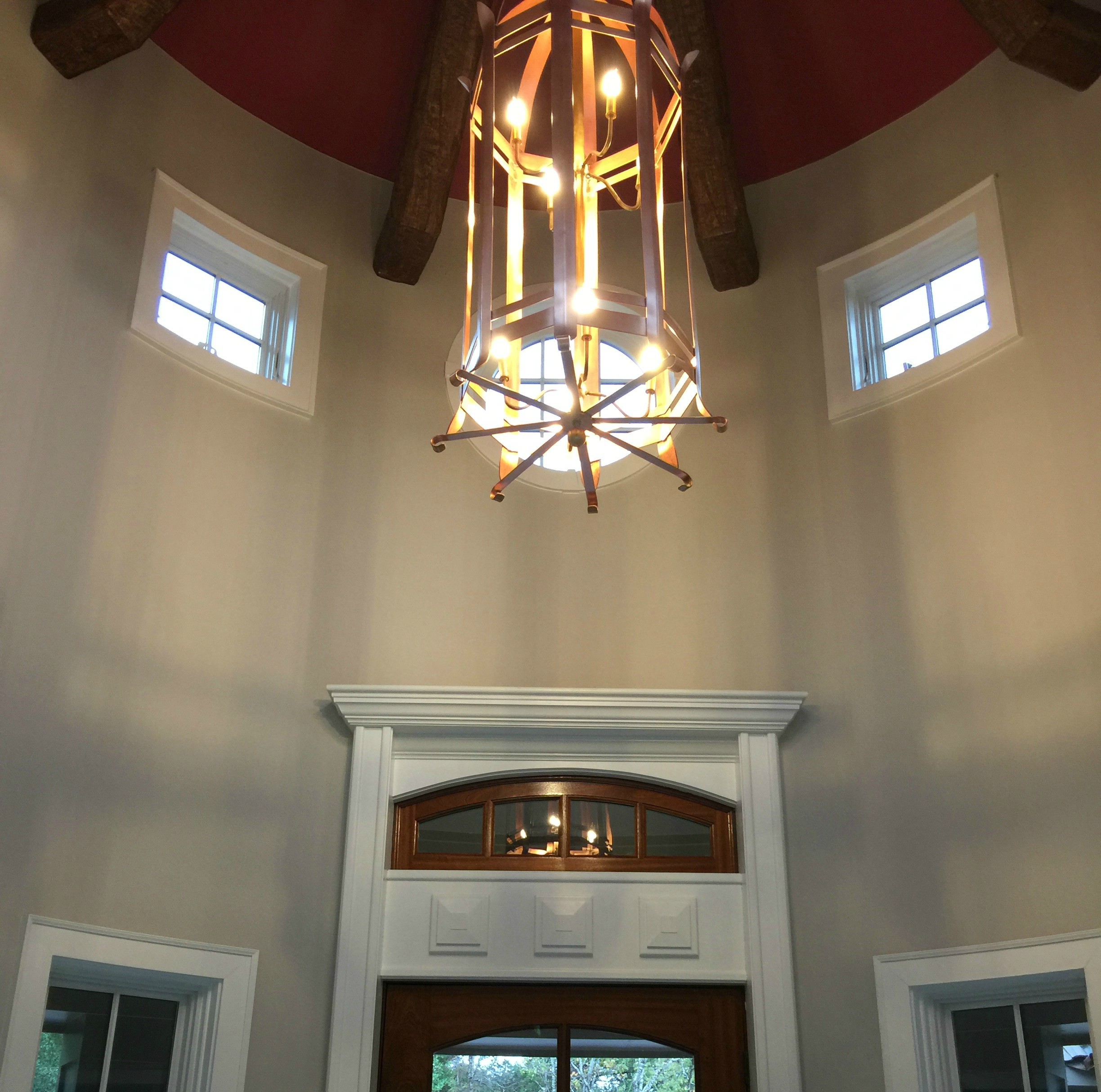 Drive-way Private Residence - Boca Raton, FL
Charleston Gas Light Twelve Oaks 200 with Dennis Custom Copper Mount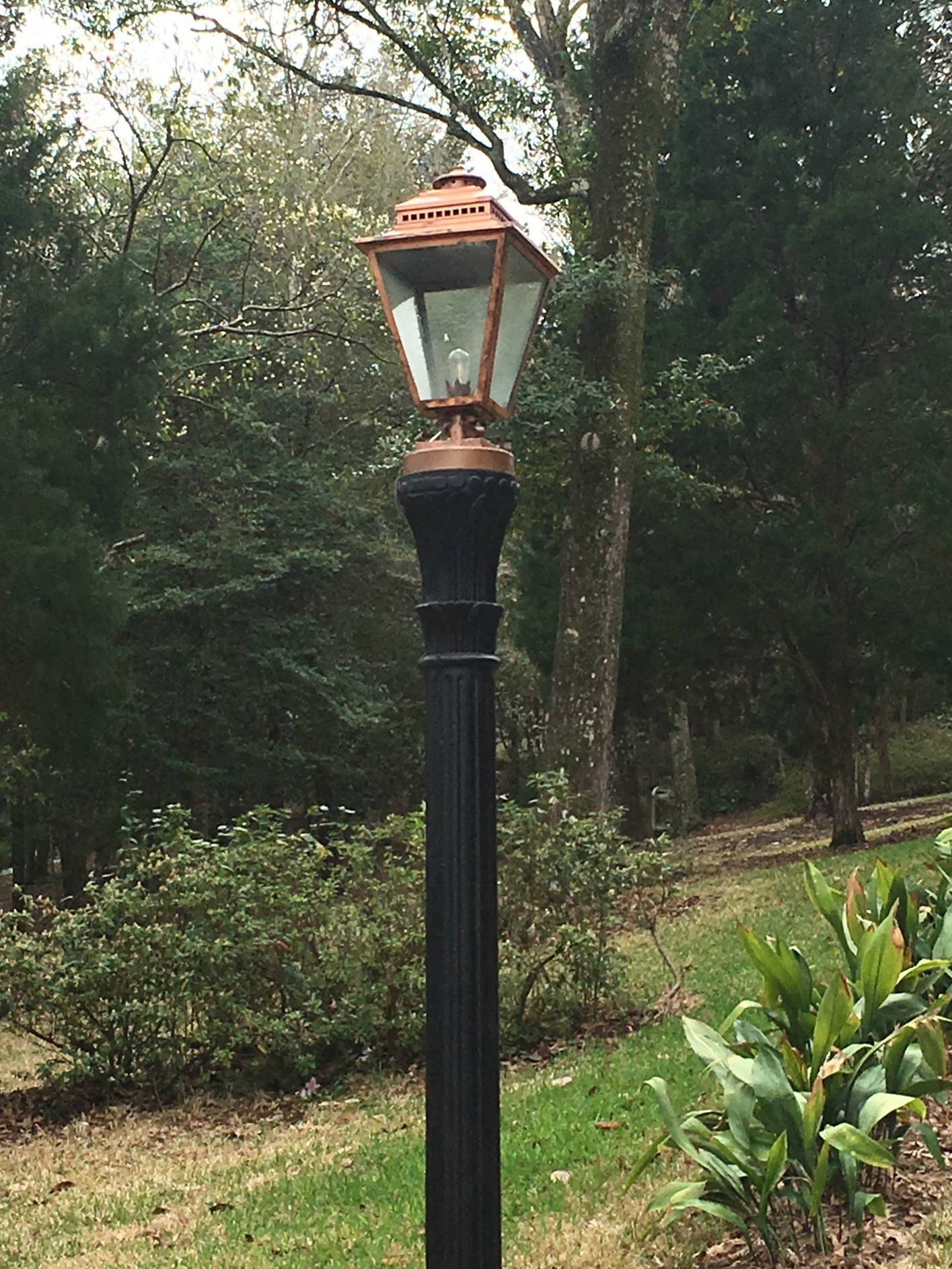 Bethesda, MD
Custom Copper Gas Light with Top Scroll 2" Copper Flat Bar - Antique Bronze Finish